Best of 2013-2023
Festivals for the Day of liberation
Until just a few years ago, Vienna's Heldenplatz was a meeting point for extreme-Right fraternity members on May 8th, people who wanted to mourn the end of National Socialism by disguising it as commemoration. In order to celebrate May 8th appropriately, the Festival of Joy was started in 2013, organised by the Austrian Mauthausen Committee with the support of the Austrian Jewish Community, the Verein GEDENKDIENST, the Documentation Archive of the Austrian Resistance, the City of Vienna and the national government.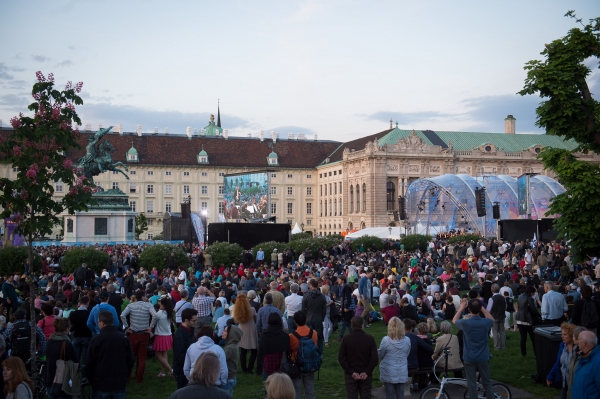 May 8th is not only a date on which to celebrate the liberation from the National Socialist regime, but is also a commemoration of all those who resisted the legitimacy of the Nazi regime or carried out acts of resistance, as well as the Allied troops who played an important role in the liberation of Austria. The victims and members of the resistance should on this day, May 8th, be honoured on the symbolic Heldenplatz and as celebrated as liberators.
At the first Festival of Joy 10,000 people took part, this grew to 12,000 in 2014 and by the 70th anniversary year in 2015 more than 15,000 gathered to send a strong message for the establishment on an appropriate commemoration of May 8th.
To see more information about the witnesses, speakers and the programme of the past Festivals of Joy:
Feedback of visitors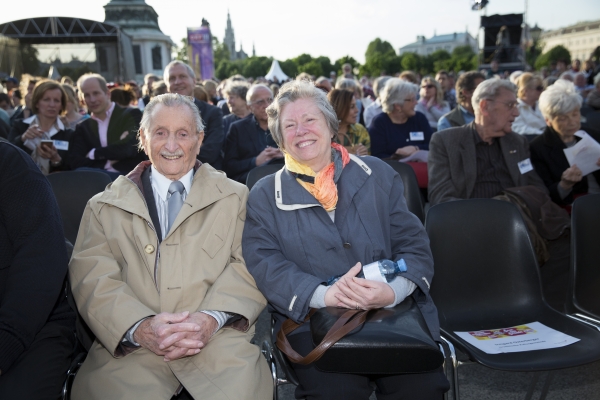 "I would like to congratulate you to this 'Festival of Joy' and hope that the 'brown shirts' have now permanently yielded the square. I wish you all the best and continued success." Marko Feingold (Concentration camp survivor)
"The experience on Heldenplatz is not something that I will forget quickly. It was a wonderful afternoon and evening. I hope to see you next year – or earlier – and send my best wishes from Berlin."
"Thank you for 70 years of peace – of which I have been able to experience two thirds. Thank you to the liberators, the United Nations and the European Union – without which modern Austria would not have been possible. It is indeed a day of joy that I have been able to experience with my children and 15,000 (!) others."
"Beautiful concert, with Philip Jordan"
"Thank you for organising this! Excellent, as every year, and very moving."
"It was very moving! Particularly because the speakers were able to show how events are going in a direction that had previously made the Nazi regime possible. The speech given by Chancellor Faymann was exactly to the point… witnesses are dying, but the suffering remains… hopefully in our memories too. Thank you for this great event and that I have been able to live my life until now in peace!"
"Great concert and a lot of emotion. Today we pay tribute to those who have brought freedom back to Europe."
"May 8th should be declared a bank holiday."